Highlights:
Travel from Istanbul to Golden Cappadocia on an 11-Day Guided Tour
Fall in love with Turkey on this 11-day guided tour. See Ephesus, an ancient city built in the 10th Century B.C. with an amphitheater that once sat 24,000 people. Drive through the Maender River Valley to an organic farm, where you can walk the lush lands, then feast on fresh produce during a mouth-watering lunch. See the turquoise travertine pools in Pamukkale where ancient Romans used to soak — then dip into the spa at your hotel to indulge in its Turkish baths. Take a tour of a traditional cave house in Cappadocia with the local who lives there, then dine as you watch whirling dervishes dance nearby. Visit the Mausoleum of Atatürk, the resting place of the country's first president, in Ankara. Travel to Istanbul, where you'll see the infamous Blue Mosque before bargaining at the electric Grand Bazaar, which boasts more than 4,000 shops.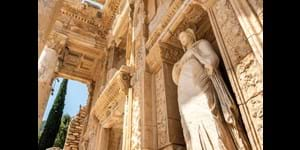 Visit the Copmadam Workshop in Ayvalik
Visit the vibrant Copmadam workshop which produces one-of-a-kind items made from recycled packaging, creating employment opportunities for local women.
Cappadocia Cave House Visit
Join a Cappadocian local, who has lived in the city for decades and take a tour of their cave house to learn more about their unique way of life.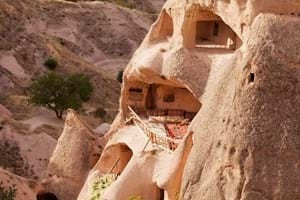 Package Price:
Start from USD 1,995 per person
Click HERE to view the dates & prices