Highlights:
Sail to Incredible Sunsets and Scenery During this 10-Day Guided Tour of Greece
Set sail to Greece's most beautiful islands during this 10-day guided tour. Let a Local Expert show you Athens' ancient Acropolis and Parthenon before setting sail for the crescent-shaped island of Santorini. Here, enjoy views of the caldera from your hotel's pool, then toast with your fellow travelers to an unparalleled sunset over the Aegean Sea. Later, join a local geology expert to learn about how the volcanic island was formed. On Mykonos, a Local Expert will guide you in a walk of the island's narrow alleys and iconic Cycladic houses followed by a private tasting of local delicacies. Plus, you'll meet a Greek captain and board a vessel for a cruise along Mykonos' stunning coast.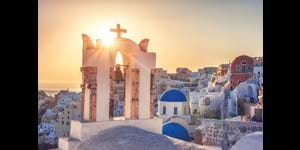 Santorini Caldera Lesson with Geology Expert
Learn from a local geology expert how the Santorini caldera, one of Earth's natural wonders, was formed 3,500 years ago.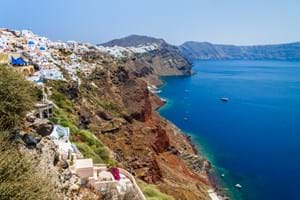 Cruise South Mykonos with a Greek Captain
Meet a Greek captain who will take you on a traditional caique to cruise the coast of Mykonos and tell you more about life on the island.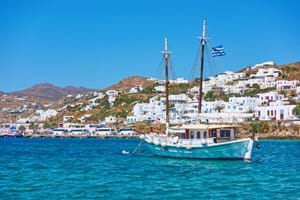 Package Price:
Start from USD 4,345 per person
Click HERE to view the dates & prices