Highlights:
See the Spectacular Sights and Taste the Culinary Delights of Peru on A 12-Day Guided Tour
Indulge in Peru with Pachamanca feasts in the Sacred Valley, a VIP tour of artist Victor Delfin's home in Lima and a menu to rival all others in Cusco at the city's preeminent MAP restaurant. Step back in time at the ancient Incan citadel of Machu Picchu, exploring this UNESCO world heritage site and the lost city of the Incas before it opens to the crowds of day-trippers. Explore the great Temple of the Sun and the ancient Intihuatana sun clock with your Local Expert before retiring to the luxury accommodations at the Inkaterra Machu Picchu Pueblo Hotel—an enchanting Andean village resort, set amongst 12 acres of unspoiled cloud forests, with winding rivers, and misty waterfalls. From Machu Picchu enjoy a choice of exploring a working tea plantation or see the world's largest private collection of indigenous orchids.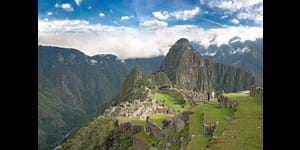 Meet Dr. Canseco
Meet Dr. Canseco today and visit his beautiful home to hear about his family's history and his successful political and philanthropic career. Dr. Canseco comes from a long lineage of Peruvian politicians and has started his own political party in Peru, in which he ran for president. He also owns Quinoa farms in the highlands of Peru, which he uses as a part of his social programme to support local indigenous farmers.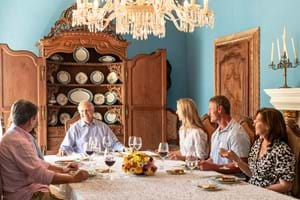 Meet Local Artist Victor Delfin in Lima
Visit the home of local artist Victor Delfin, known for his monumental El Beso sculpture at his workshop in the city's trendy Barranco district.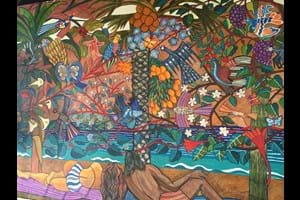 Meet Quechua Scholar and Community leader Nilda Callanaupa Alvarez
Join a MAKE TRAVEL MATTER® Experience as you meet Nilda Callañaupa Alvarez, a Quechua scholar, director of the Center for Traditional Textiles of Cusco, and a recipient of a TreadRight Foundation grant. Learn about her mission to preserve traditional weaving techniques and how she has succeeded in bringing weaving once more to the forefront of her community.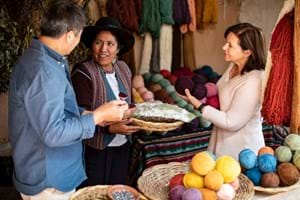 Visit Amantani Island
Join a MAKE TRAVEL MATTER® Experience a you as you meet a local family on Amantani Island. Home to about 4,000 inhabitants, you'll discover how the traditions and language of the Inca culture are being kept alive on this remote location not commonly visited by tourists.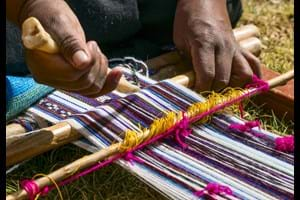 Package Price:
Start from USD 6,946 per person
Click HERE to view the dates & prices